Home Page
References
Press Reviews
Testimonials
F.A.Q.
Thanks
Grog Story
---
Terminology
Safety
Rope Properties
Which Rope
Essential Knots
About
Contact
Knot Store
Speed
Loop
Mirror
Flip
Use Arrow Keys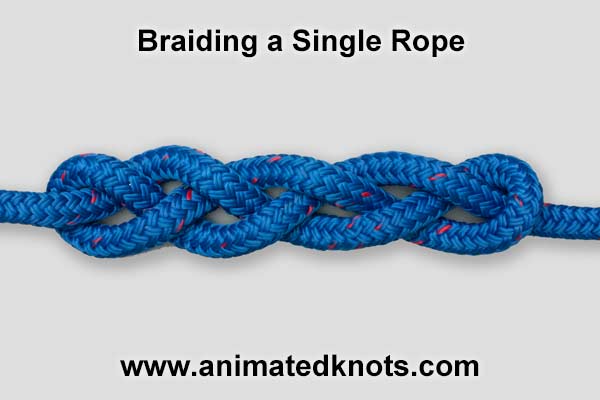 Braiding a Single Rope
Make a loop which is about the length needed for the braid. Pass the end through the loop. Twist the loop to create the next hole for the end to pass through. Repeat as often as required to complete the braid.
Braiding a Single Rope Details
Uses: Braiding several strands is often learned in childhood as a way of controlling long hair. This animation demonstrates how to make a braid with a single piece of rope.

Methods: The animation shows the braid being tied with the rope's end being threaded through the loop. In practice braiding is made in the usual way. The strands are manipulated close against the braid ignoring the fact that the end and the loop are getting tangled. Then after adding several braids, the end is pulled clear of the loop.

Disclaimer: Any activity that involves ropes is potentially hazardous. Lives may be at risk - possibly your own. Considerable attention and effort have been made to ensure that these descriptions are accurate. However, many critical factors cannot be controlled, including: the choice of materials; the age, size, and condition of ropes; and the accuracy with which these descriptions have been followed. No responsibility is accepted for incidents arising from the use of this material.

include ($Jump . $Format . "/cookiepermit.incl"); // Cookie Javascript Code
Half Price Offer
Rope Chafe Wear Pads
Adhesive Stainless Steel
Prevent Fiberglass Chafe.
Order Wear Pads